Happy
Thanksgiving
Dear Customer,

And yes it is coming and I may be a bit early in wishing you a very Happy Thanksgiving but this is the month to give thanks, and I am so grateful fo all of you, for your business, for being able to share my knowledge and my gifts with you and your horses too!
In this month of "Thank-ful-ness" find something each and every day to be in gratitude for, it will change your life and you will find out just how blessed you truly are!
NOVEMBER TIP OF THE MONTH from Ellen Whitehurst
Tardy Harvest Festival And The Thanksgiving Magic
The Thanksgiving holidays will fall in the latter days of November as this was when the Pilgrims planted their crops in New England even though this harvest was later than usual. So that means that this American tradition that celebrates gratitude is simply a tardy harvest festival. I have been told that hanging a bunch of ears of dried corn by their stalks on your front door before this holiday ensures a prosperous and a healthy, wealthy year to come. This is considered Thanksgiving magic so go ahead and wave that want (or that corn) to bring big blessings into your life. You want to be sure though that you don't use gray colored corn but, rather, try to use multi-colored corn. I even put some ears of dried and colorful corn in a decorative bowl on my dining room table as well as hanging those ears on the front door. Be grateful for this tip - it works!
The Winner for the End of October drawing for Winter Blend is:
Beverly Daniels of Texas, and it will ship this week!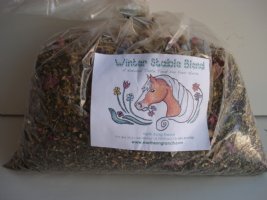 Winter Stable Blend is a great taste treat with a purpose lots of leafy herbs, flowers, flower petals, and more! A wonderful blend of warming herbs and herbs for the tummy for Fall and Winter2016/2017 as written about in Equine Wellness last edition for 2015 !
This is an all natural low NSC treat and we have added Echinacea and ginger to the blend for more immune support, more Chamomile and Yarrow flowers for calming and to reduce inflammation from standing around too much in the barn; of course we have added extra peppermint leaf to help prevent some gas colics too!
This is a blend of dried herbs and flowers and is especially blended for the fall and winter months. Feed by the hand full or mixed in bucket feed and your horse will love you! This blend contains lemon balm, rose petals, yarrow, chamomile flowers, peppermint, hawthorne, parsley, and dandelion leaf, some ginger, licorice root, & cinnamon pieces along with orange peel, & meadowsweet, Comes in 2 oz, 4 oz & 8 oz sizes (larger sizes also available by special order). The 4 oz size is about 6-8 or more small hand fulls, as it is fed by the handful and sprinkled as a topper on your horses hay or bucket feed.
Come see more about this awesome blend: Winter Stable Blend
Notes from the Ranch ~
As I turned the page of the calendar this past week it was with a bit of shock and disbelief that we could already be at the end of yet another year... time to get ready to bake pumpkin and apple pies, time to get the list ready for our Thanksgiving feast, then think about Christmas present and past, and as my friend Lydia shared just the other day, to be thankful for all the wonderful family memories we each have with all of those we loved, who helped to make them for us, who are on the other side of the Rainbow Bridge, many do not have those fond rememberances, and I have so many wonderful heart felt memories to be grateful for and more memories yet to make with my daughter, grandkids and friends!
Getting the barn, the yard and the house set for fall nights and cold winter mornings, none of the leaves have as yet started to turn, and my rose bushes are confused and full of blooms, even have one bulb that is blooming because it must think we are in spring with the warm weather we still have and no frost in the mornings.... this morning a Santa Ana is brewing so it will be warm through Wednesday with high chance of fires still!
I will be so glad when all of the election stuff is over,and we can all get back to the business of living and planning for the holidays, a much happier time, reuniting with family and hopefull neighbors, friends and with the rest of the country!
Have been getting out more with my little horse Jeep and doing some of his re-training, as well as new training and he has been mastering the Parelli Games, so we are about ready to hit the trails around here in the not to distant future, we are also waiting for his Easy Boot Glove replacement gator so we can, he needs boots on the rocky roads and trails around here, this past year we were taking him from "shoes" to bare foot over which has allowed his feet to expand, his fronts went from .75 to 1.5 and his hinds from .5's to 1's and he has pretty much grown everything out now! Awesome feet!
I am in beginning stages of learning Craniosacral work for the horses, and I know they will all benefit from it, especially Cheyanne and Jeep, both have backs that are a bit tight - body work is so good for us humans and is also beneficial to our horses and our pets too! I have been blessed with Craniosacral work from the age of about 4 so I know when my body needs some balance, I know what it feels like to receive it, so may be easy for me to learn the feel of it and I know I can thank that work over te years for my over all health and why it continues to this date! As I have said so often, my Mother was so far ahead of the curve of alternative medicine/ treatments, organic food, homeopathy, osteopathy, nutrition and herbs, I am so thankful and so grateful for her and all the knowledge I have because of her fighting the system and doing things more naturally which also transfers to the horses, cats and dogs!
I have been experimenting with making liniment for humans and horses, all natural with herbs, brewed in witch hazel and vodka for a few weeks time - not sure where I will go with all of this, but may add it to the Earth Song Ranch line up of products. It will not be inexpensive given that I use only organic herbs and it takes a lot of time and effort on my part, each jug has to be turned twice per day, and is filling my kitchen counter - I have blends with White Willow Bark, with Queen of the Meadow, or both and also with St John's Wort for nerve pain. Have been testing all of these brews on friends and family with great success, just started using it on my horses --- so email me if you have an interest in going more natural with liniment.
I will be offering several monthly specials in honor of Thanksgiving, so look for them in the Earth Song Ranch Newsletters that will be coming out during this month, maybe weekly, on Sunday's and I will also be offering some awesome specials for Thanksgiving Weekend/ Black Friday ones as well, and in December as always will be offering Free Shipping most likely mid month, as I always do as my way of thanking all of you for your continued support all year long!
From November 6th through November 14th ~
Tummy Tamer - for horses coming off the show circuit or horses that may be stalled for the winter, or have had to be on meds this helps to calm the digestive tract and soothes the tummy! Use coupon code TUMMY for 15% off. Tummy Tamer
Winter Stable Blend -- this is just flying out of the herb cottage at double the rate of normal to a lot of lucky horses around the country and Canada -- take 15% off using coupon code WINTER Winter Stable Blend
Don't Forget There is a Full Moon on the 14th if you still need Herbal Wormer !
Earth Song Ranch
PO Box 482
Aguanga, CA 92536

(951) 514-9700
http://www.earthsongranch.com